At ScubaVentures, our goal is to get every customer into the highest quality equipment to meet their individual needs. With a knowledgeable and experienced staff and a showroom packed with the biggest brand names in scuba, we ensure you will get the proper equipment to fit all your diving needs, from major items all the way down to the smallest accessories.
We pride ourselves in having a large inventory of high-quality gear, but we also know that sometimes people have special requests. Just ask about custom orders; we will do everything we can to get you what you need.
We also have a selection gear packages available, all of which include a scuba certification class. The Personal Gear Packages are designed for new divers just starting out and include the full Open Water Diver class. The Dive Gear Packages will have any diver, new or experienced, diving comfortable and confidently and include any one of six specialty classes.
Open Water Personal Gear Packages
Each package contains everything needed for your ScubaVentures/ Blue Water Park Open Water certification class. Zero-interest payment plans are available for all Personal Gear Packages!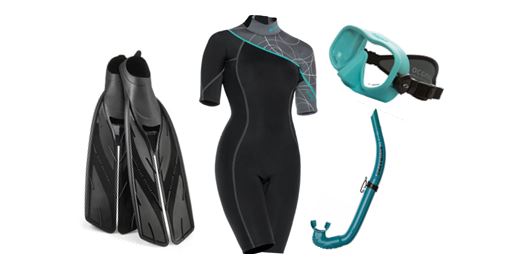 OWPG #1
• Classic or Semi-Dry Snorkel

• Full-Foot Fins or Open-Heel Fins

• 2 or 3mm Shorty Wetsuit
OWPG #2
• Classic or Semi-Dry Snorkel

• 3 mm Low- or High-Top Boots

• 3 or 3/2mm Full Wetsuit
OWPG #3
• 3.5 or 5mm High-Top Boots
OWPG #4
• 5 or 6mm High-Top Boots
Each package also includes:
Anti-Fog Gel or Spray
Standard Gear Bag
Each package contains a complete set of scuba equipment – beyond personal gear – and the specialty certification class of your choice!
DGP #1
• Regulator: SCUBAPRO MK11/C370 with SCUBAPRO R195 Octo

• Computer: Oceanic Veo 4.0 Navcon
DGP #2
• Regulator: Atomic Aquatics Z3 with Atomic Aquatics Z2 Octo OR SS1

• Computer: Oceanic Pro Plus 4.0

• BCD: Zeagle Zena OR Stiletto
DGP #3
• Regulator: Dive Rite FT1/XT2 with Dive Rite XT2 Octo and Mini Tech SPG

• Computer: Shearwater Perdix

• BCD: Dive Rive Transpac with Voyager EXP Wing
DGP #4
• Regulator: SCUBAPRO MK25/S620Ti with SCUBAPRO Air2

• Computer: SCUBAPRO G2 (with transmitter) or Suunto D5 (with transmitter)

• BCD: SCUBAPRO Hydros Pro or HydrosX
Each package also includes:
Dive Gloves
Dive Light
Gear Cleaner
Gear Hangers
Deluxe Gear Bag
One Specialty Certification Class*
*Specialty certification class includes: SSI digital materials, academic and/or practical sessions (including BWP entry fees with tank rental + air fills if in-water training is required), certification processing
Choose from: Computer Diving, Enriched Air Nitrox, Night & Limited Visibility, Perfect Buoyancy, or Science of Diving. Specialty certification must be completed within SIX months of package purchase.
Whether you are looking for a new regulator or an entire dive set up before your next big trip, ScubaVentures carries what you're looking for. We carry many of the major brands in the scuba diving industry like ScubaPro, Oceanic, Atomic, and more. We invite you to visit our store for all of your dive equipment needs.